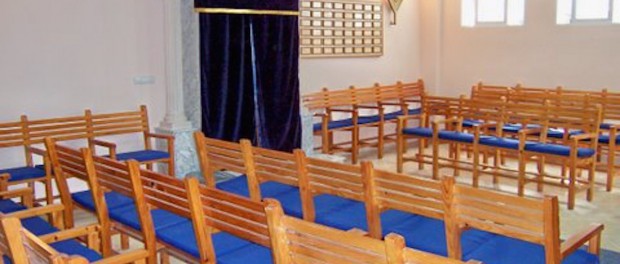 The Comunidad Israelita de Alicante is a Jewish Community serving the Costa Blanca area of Spain. Our members range from as far away as Gandia in the North, Torrevieja  and Mojacar in the South of the region.The Community was formally established in June 1967, although its origins date back even earlier. Services are held regularly, in our Synagogue in Benidorm on Friday evenings, and are followed by a Kiddush. Services are also held on the High Holy Days and other Jewish Festivals. The Synagogue occupies premises in Benidorm, and also has a newly extended Social Centre. Our members are of mixed nationalities, with the majority of them, at the present time, being British expatriates. Needless to say we always extend a warm welcome to all Jewish visitors to the area, whether on holiday or on business.
On the Social/Cultural front, we have a very active Committee which, in addition to organising special events, is responsible for arranging our regular monthly luncheons, as well as functions associated with religious festivals such as Purim, Pesach and Chanukah. Our lunches normally attract between 50 and 60 people, some of whom travel considerable distances to attend. Everyone enjoys these happy social occasions, which provide an opportunity to meet up with old friends and to make new ones. Everyone agrees that the meals are excellent too! The Social/Cultural Committee also organises group visits to places of interest in Spain, as well as arranging informative talks and a variety of social functions.
Naturally, of concern to many people is the matter of a jewish cemetery and burial arrangements. The Community owns a very well-maintained Cemetery in Benidorm, and all the necessary arrangements for burial can be made by a simple telephone call to one of several members of the Board of Management.
Whether you are a permanent resident in Spain, or just a visitor here on holiday, we do urge you to join our Community. It has a lot to offer you and, conversely we know you have a lot to contribute too, and not only in the financial sense.
We look forward to meeting you and welcoming you to our Community.