Lorca Parador built on 15th c. synagogue opens new shul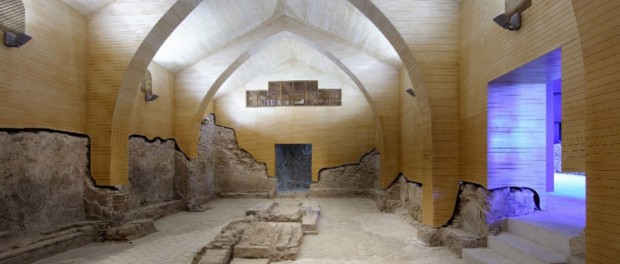 A Spanish hotel built on the remains of a 15th century synagogue opened a new synagogue on its seventh floor last week.
The opening at the four-star Parador de Lorca hotel in Lorca, a city in the south eastern region of Murcia, was the result of negotiations between management and the Sefarad Beitenu Jewish association, which will run the shul, according to a report in the Murcia Economia newspaper.
The president of Sefarad Beitenu, Aharon Franco, signed a cooperation contract with the Paradores hotel network on Dec. 4, the report said.
The synagogue was unearthed during the construction of the new hotel, which was opened last year.
The seventh floor also houses a small Jewish cultural centre offering an overview of Jewish history in Spain and a description of the synagogue and other findings recovered in the ruins.
Several heritage preservation groups opposed the hotel's construction because it would mean the loss of archaeological finds. The management pledged to incorporate the findings, including a 15th-century mikvah, or ritual bath, into the building's architecture.
Shlomo Amar, a former Sephardic chief rabbi of Israel, visited the hotel and the ruins earlier this year and requested that it be made into a place of pilgrimage for Jews, according to the Spanish daily La Opinion de Murcia.
Contributed by Leslie Winestone
Website: Traces of Jewish culture in Lorca
Facebook page Huellas de la cultura judía
---