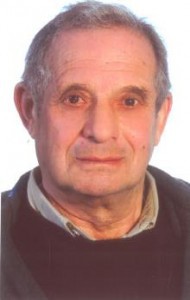 I knew Howard for more than fifty years, which is the vast majority of my life, so to try and condense my feelings of love and affection over such a long period into a brief obituary is extremely difficult. We first met when, at the tender age of twelve, I approached him, somewhat timorously, and asked for a Saturday job, helping him on his market stall. He said I could help him that day and, if I was any good, I could help again the following week. I must have done something right as I worked for him for well over twenty years and formed a lifelong friendship with this wonderful man. As I got older Howard was always there for me offering help and advice. Advice I almost invariably followed as I knew even then that he always had my best interests at heart. He never led me astray!
I would take to or three days off from my job each week for a couple of weeks and work full time for Howard. This enabled him to take a holiday, usually in Spain, while I continued to work. Many days we would start the day by shovelling snow for an hour before we could even set out the stall. We might stand there all day long not taking a penny before we packed everything away somewhat sadder, even colder and still penniless. I remember several days like those described above when my parents would drive through the market and see us.
If Howard looked cold they would take him home, sit him in front of the fire with a whisky while he watched the football on TV. I, of course, was still out in the cold trying desperately to sell something before he returned. I seldom did. It is perhaps relevant here to mention that everyone in my family loved Howard. It is not hard to know why.
Howard was the nearest thing to a saint I ever met. He was always happy, cheerful, pleasant and, above all, kind. In over fifty years we never had an argument (quite a feat as anyone who knows me will confirm) and we hardly ever disagreed. In all that time I never heard him say a bad word about anyone. He always saw the best in people and always saw their point of view.
I always said Howard was my father, my big brother and my best friend. Now I have lost all three which has left an enormous void in my life. I will never meet another man like him and will miss him every day for the rest of my life. I know most of you will feel the same way.
May he rest in peace. William Turney
Louis and I experienced our own personal tragedy just over 4 years ago. From this tragedy began an instant and wonderful friendship with Jackie & Howard, who, having flown in from Spain to London for a family simcha, met us in the hotel lounge, took us under their wing, instantly embracing us with warmth, love and kindness, when we were both numb and in a state of shock. When it transpired we had a holiday home in Alicante, they were to introduce us to your amazing community as their "New Best Friends" – the rest as they say is history!
We are proud to be able to claim Howard as a special friend, and we will always cherish these 4 years of our friendship, but deeply regret the cruelty of his passing too soon. Only last October we celebrated with them on Howard's 79th birthday, and he talked in great anticipation and detail about making a big party for the community for the following year, his 80th. Only weeks later, his health deteriorated rapidly and suddenly, and we all had to say goodbye to a kind and generous man, a gentle gentleman, who bore his short illness with great courage and dignity.
Jillian & Louis Collins