Helena's Farewell speech to Gloria Richmond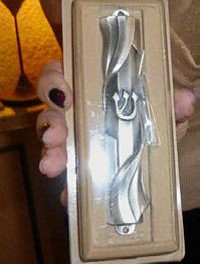 On Behalf of the Communidad  
Dear Friends
As most of you know, Gloria will be leaving us very shortly to return permanently to London. I am sure that many of you share with me, mixed feelings about Gloria's decision to leave Spain.
Dear Gloria, since the loss of your beloved husband, Arnold, we know how lonely and unhappy you have been, but you have always managed to put on a brave smile when you are among your many friends. As much as we are going to miss you, we are sure you are doing the right thing, in moving close to your dear family and old friends. Our loss is their gain !
You, and formerly Arnold, have been a devoted and active member of our Community for many years, serving on various Committees, but you are probably best known as the Raffle Lady. You have always managed to bring along to our lunches, an attractive array of prizes, and everyone always looked forward to hearing you call out their winning number. Yes, we really are going to miss you, dear friend.
We understand that there is a Shul close to where you are going to live, and if there is a social section, you are going to be welcomed with open arms.
On behalf of our Community, I am pleased to present you with this gift of a Mezzuzah, as a token of our love and esteem for you. We wish you much happiness and good health in your new venture.
Gloria, it is time for us to say farewell and we look forward to your coming back to visit us soon.