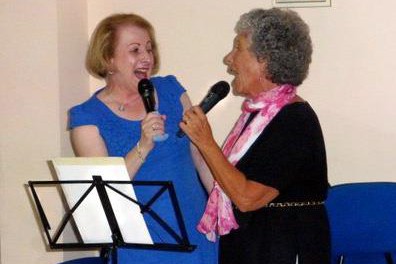 Once again Mike Lawson hosted the annual Daniel Pearl evening and started by introducing Sue Lawson and Hilary Bowick who sang a duet of Bei Mir Bist Du Shein. Naturally, the audience joined in and it made for a lovely relaxed start to the evening.
Mike and Laurence Baehr later played a selection of music on their keyboards. Then Mike accompanied Sue with her moving solo performance and Laurence accompanied Natalie, a cousin of Shirley Baehr, with her songs.
THEN IT HAPPENED…….The famous Warner Falk calypso (!!!)
Bravely Hilary took to the stage again and sung her version of THE BENIDORM SHUL CALYPSO. The audience joined in with the chorus and a lot of fun was had by all. Warner Falk would have been proud to hear his calypso being sung by those present.
Some ladies danced to Hava Nagila which was expertly played by Laurence and the evening was brought to a close with Sue leading the Hatikvah.  Angela Shears