Holocaust Memorial Day: Telegraph revealed Nazi gas chambers in 1942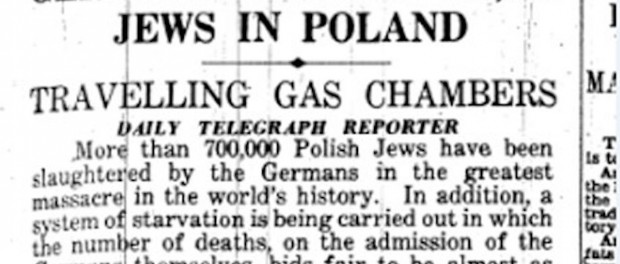 "The Telegraph disclosed the existence of Nazi gas chambers and the "mass killing" of Jews almost three years before the liberation of Auschwitz on Jan 27, 1945. 
It was under the headline "Germans murder 700,000 Jews in Poland", that this newspaper reported the "greatest massacre in the world's history" on June 25, 1942.
The story was remarkably detailed and accurate, yet the credit belongs neither to this newspaper nor the anonymous "Daily Telegraph reporter" who was the author. All the facts were supplied by Szmul Zygielbojm, a member of the Polish government in exile who made it his mission to inform the world about the Holocaust."
El País mentions the story in its Sunday colour supplement:
"…La noticia, en dos columnas, incluía datos y detalles terribles: "Niños en orfanatos, pensionados en geriátricos y enfermos en hospitales han sido fusilados. En muchos sitios los judíos fueron deportados a destinos desconocidos y asesinados en los bosques cercanos. En Vilna, 50.000 judíos fueron ultimados en noviembre. El número total de los masacrados en este distrito ronda los 300.000".
La noticia era una de las primerísimas informaciones sobre uno de los grandes hechos del siglo. Y, además, tenía la rara calidad de que podía servir para algo. La masacre estaba, entonces, sucediendo –varios millones más serían asesinados en los años siguientes–; saberlo podía llevar a intervenir. Pero el Telegraph la publicó, pequeña, perdida en la página cinco de un periódico que tenía sólo seis –y ningún otro medio la retomó. Pasarían años antes de que la humanidad decidiera horrorizarse por el Holocausto: en esos días no le daba la gana… El Holocausto fue un momento excepcional de la historia. Ahora –dice el secretario general de la ONU, Ban Ki-moon– sólo mueren ocho millones de personas al año por causas ligadas al hambre, y las guerras producen multitudes de refugiados y miles de migrantes se ahogan o se pierden buscando una vida más digna. No nos sucede, claro, a los que leemos estas líneas. Suelen ser otros, como eran otros los judíos. Y sus historias siguen saliendo en la penúltima página, cuando salen."