Holiday Makers Celebrate Diamond Wedding in Benidorm Synagogue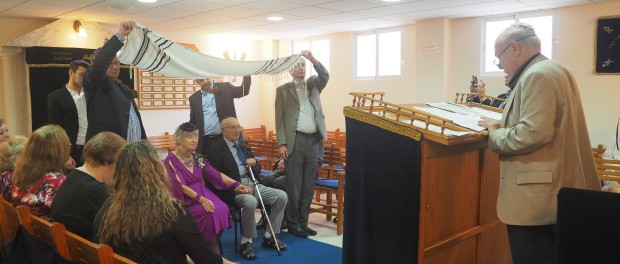 Leonard and Evelyn Shonfield have been coming to Benidorm for many years at this time of year, staying at The Melia Hotel. This year they had something very special to celebrate. They were married on the 1st November 1955 at Willesden Synagogue North London and approached Benidorm Synagogue to ask if they could arrange a special service and celebratory brunch to commemorate their 60 years together, their Diamond Wedding Anniversary.
Leonard and Evelyn, who live in Borehamwood, Hertfordshire were joined by three children, daughter in law, two grandchildren, relations and friends for this very special occasion, 16 in total plus members of the synagogue.
Up to the challenge Benidorm Synagogue Members organised a very special unique service and blessing for the happy couple officiated by Mario Rodrigues Pereira and organised by Harvey and Carole Bourne the President and his wife.
They then sat down to a wonderful buffet where guests and members mingled and discussed their different lifestyles, Spain vs Borehamwood and South Manchester. It was a memorable morning and something that was very special to all who attended.
Benidorm Synagogue covers the whole of the Costa Blanca with members as far afield as Mojacar and Gandia and has a reputation for its warm hospitality. They welcome holiday makers and those with local holiday homes as well as residents to their Friday Night and High Holiday Services and frequent social events.