Spain's Jewish "Ghost Towns"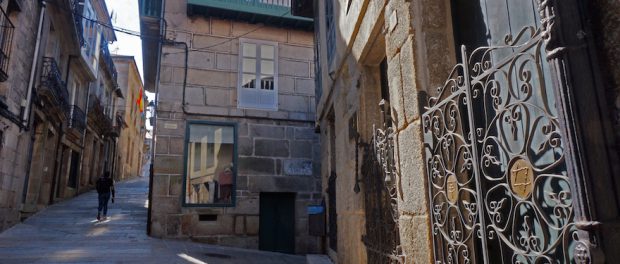 RIBADAVIA, Spain (JTA) – Overlooking the confluence of two rivers near the Spanish-Portuguese border, this small and picturesque town has more Jewish institutions than some European capitals.
In the historic Jewish quarter of Ribadavia, the sounds of nearby waterfalls echo among cobblestone streets featuring attractions that are found nowhere else in the northern region of Galicia, including a Jewish museum, a medieval synagogue, a kosher wine shop and even two Jewish bakeries.
Despite the municipality's significant investment in its Jewish heritage sites, however, this scenic town is missing one crucial element that could make the effort financially viable: Jews, and Jewish tourists especially.
Located 43 miles from an international airport, Ribadavia, whose once-significant Jewish population disappeared centuries ago, is pulling in only about 20,000 tourists a year, most of them Spanish non-Jews. Even on sunny weekends its streets are often empty and its inexpensive street markets see few foreigners.
Part of Spain's struggling Red de Juderias, a network of some 20 cities with Jewish quarters or major heritage sites, Ribadavia typifies both the potential for opening such culturally rich locales to wider audiences and the challenges that have obstructed plans to do so since the Red's creation two decades ago.
A case in point is the synagogue, which was built in the 16th century by Jews who continued to practice their faith secretly after being converted to Christianity under duress during the Spanish Inquisition. Hidden inside the stone frame of the building's only eastward-facing window is a cylindrical compartment where worshippers used to conceal their Torah scroll.
"This is a piece of their history, but it is also a piece of mine," said Camilo Rodríguez Alonso, a non-Jewish lawyer, intellectual and Spanish aristocrat who bought the building to preserve it in 1982, some 15 years before the creation of the Red de Juderias.
The 80-year-old nobleman says he feared the building would be damaged in the real-estate free-for-all that followed the fall of the dictatorship of Francisco Franco in 1975.
"Everything here is historically priceless," he said of his office, which has massive wooden floors so ancient that lower stories are visible from above through fine cracks along the grain.
Alonso, a jovial father of three who following his recent divorce moved into a bachelor pad with friends near Ribadavia, renovated the building while preserving it. He even had welders add handcrafted Stars of David decorations to the perimeter fence "so that this synagogue, which always operated in secret, would be secret no more," he told JTA during a recent interview.
Alonso's deep emotional attachment to Jewish heritage is shared by many Spaniards who even today are pained by the post-Inquisition destruction of one of the world's most illustrious Jewish communities. Towns like Ribadavia, which once was one-third Jewish, were gradually rendered Jew-free amid persecution that drove away or wiped out Spain's population of Sephardi Jewry, whose name means simply "Spanish" in Hebrew.
While Alonso is eager to share his love for the building and accommodates special requests to view it, under his ownership the average visitor to Ribadavia has been largely unable to see the synagogue, which is by far the most remarkable Jewish heritage site in the town.
"In my advanced age, it's difficult to come here and show it," said Alonso, whose bad hip prevents him from climbing up to the floor housing the ark.
Despite his passion, Alonso's failure to leverage the synagogue he owns into a tourist asset is typical of efforts to further develop Spain's Jewish heritage sites, according to Marta Puig Quixal, the newly appointed director of the Red de Juderias.
An intermunicipal organization, the Red, or network, has an annual budget of approximately $500,000. That needs to cover work in 20 cities in a country with a cash-strapped economy that is only now emerging from an eight-year recession with an unemployment rate of 21 percent.
"Each mayor is vying for a slice of the pie," Quixal said, "but if we divide the money we'll end up with sums too small to have any impact."
Budgetary disagreements complicate efforts to buy out private owners like Alonso and develop their heritage, said Quixal, who assumed the directorship of the network earlier this year "in order to try and change the current situation," as she defined it.
Private investors have largely stayed away from bankrolling Jewish heritage projects in Spain, partly because of the financial crisis and also no one seems to have statistical data on the economic potential of such sites.
"The truth is we don't have the statistics, we have no reliable market research to offer private investors," said Quixal, who added that obtaining such data is a high priority for her.
Some 350,000 Jewish tourists from Israel alone visit Spain annually, though most are believed to stay in Barcelona and other large cities. Many Israelis in Madrid visit a former synagogue in Toledo that is among Spain's most popular museums, with some 300,000 visitors annually, half of them locals.
More anecdotal data can be found even in Ribadavia at the town's first Jewish bakery, Tafona da Herminia, which 77-year-old Herminia Rodriguez opened 25 years ago. A non-Jew, Rodriguez began baking Jewish pastries 25 years ago as per a special request by Spain's Center for Medieval Studies. Her riverside bakery has been featured by national publications such as El Pais and even got a mention in The New York Times.
"Not a day goes by that I don't get customers here, and not a week goes by without me getting some sort of Jewish recipe in the mail," she said proudly in her dark bakery, where a menorah and an icon of the Virgin Mary share a single shelf. ("They're together so they're not jealous," Rodriguez said, adding, "They're neighbors after all.")
Rodriguez has gained fame for making breads and cookies in the shape of a Star of David. Shoppers can choose traditional Sephardic pastries like date-filled maamuls and mostachodus – a clove and walnut crumble — as well as Ashkenazi cookies like kichelach and kupferlins, all baked in her stone oven.
"People want to connect to Jewish heritage, and food is the most immediate way," she said in explaining her unlikely success.
In Hervas, a town located 230 miles southeast of Ribadavia, Israel-born Abigail Cohen is seeing a similar boom with Candela, the Jewish bakery that she opened four years ago.
"The pastries are selling well because they are Jewish; it's clear to see that this is the reason for this success," she said, adding that only 20-30 Jewish tourists pass by her shop annually.
Awareness of the Jewish heritage of Spain and Portugal is doing more than help sell cookies.
Last year, both countries implemented unprecedented legislation offering citizenship to the descendants of Sephardic Jews in what some observers claimed was a bid to attract wealthy investors. Both governments said, however, that the law was the result of regret and guilt over the Inquisition. Some 5,000 Sephardim have already naturalized.
But disagreements over budget and politics continue to hold back the development of the sites connected to Sephardic Jewry, according to Quixal. Earlier this year, four cities from Catalonia, a region where separatist sentiment and politics are strong, broke from the network in a move that has affected its work adversely, she said.
And in a country that holds the European record for municipalities supporting the Boycott, Sanctions and Divestment movement against Israel, some mayors are reluctant to work with Israeli businesses and tour operators because they find doing so "too politicized," Quixal said.
"This is something that will have to change if we are to move forward from where the Red de Juderias is right now," she said. "You can't get Jewish tourists without working with the Jewish state. I mean, we can't advertise Jewish quarters that don't want any Jews."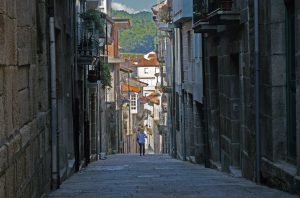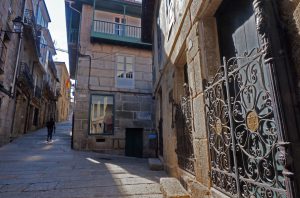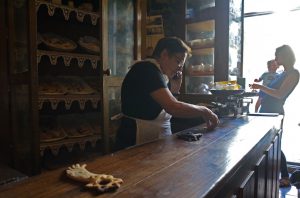 with thanks to Ian Imber for supplying this article.