The Inquisition Remembered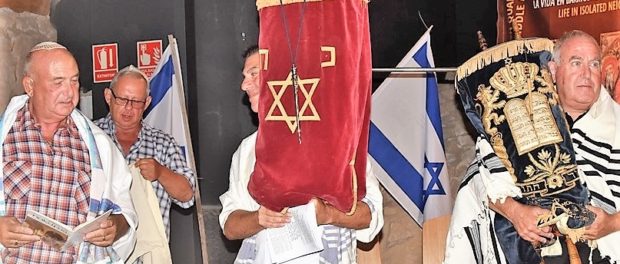 On October 2nd 2018 the history of Jewish Lorca was memorialised by a Simchat Torah service organised by Alan and Jackie Harris of the Southern Costa Blanca Jewish Community, taking place at the Lorca Synagogue, Murcia, beneath the Parador de Lorca.
We feel honoured to have been invited.
This ancient Synagogue, discovered in 2003, has been excavated and preserved as a monument to the former Jewish Community and to the Spanish Inquisition of the 15th Century which destroyed it.
The service, attended by 70 invitees, was in Ashkenazi format, incorporating, apart from the basic service, the blowing of the shofar by Aron and Noah, a 2nd Bar Mitzvah for Stephen Fletcher (aged 89 years), a Kaddish on behalf of those who suffered through the Inquisition, Mi Sheberach for the sick, and a blessing over the children present. The proceedings ended with Kiddush and Hamotzi.
During the service, each sefer torah, in its parade around the congregants, was briefly rested within the original temple as a mark of respect.
The whole ceremony was a most emotional experience, being the first of its kind within this historic site for over 500 years. The spirit of Simchat Torah, encompassing dancing and singing, joy and laughter, heart rending with many a shed of tears, captivated the hearts and souls of all present.
Thank you Alan and Jackie. Truly a mitzvah.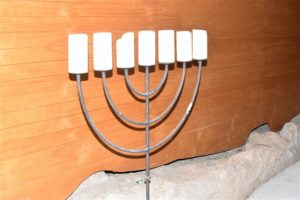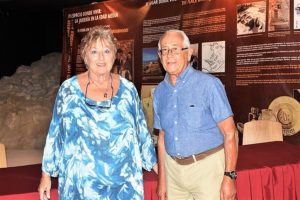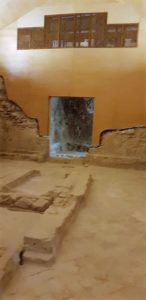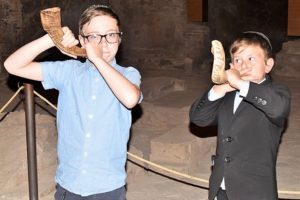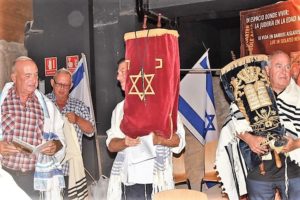 Rona & I were most fortunate, and delighted, to have been invited to this historic event, being the very 1st Simchat Torah celebration to be held at the Lorca Synagogue in over 500 years. This was the result of much planning and extremely hard work by Alan and Jackie Harris. The Southern Costa Blanca Jewish Community is one whose members live permanently or part-time in the Murcia region.
A bus brought about 50 persons from Torrevieja to a restaurant (Restaurant Ruta 340) for lunch where we met them. Then they continued to the hotel Parador Lorca, beneath which is the historic synagogue. (We drove as we were staying in the hotel for several days, as were a dozen attendees from the UK who were members).
The service took place adjacent to the original Synagogue, between it and other excavations. Some parts of the service, the shofar blowing, the hakafa circuits, and the kaddish for those who perished in the Inquisition, took place in the original Synagogue.
We have to say that the whole proceedings were not only sad, joyous, emotional, but truly memorable.
Apart from seeing our dear friends who were also there, Cherylle & Laurence Murray and David & Marion Morris, we were delighted to become acquainted with some of the members of that Community. In fact, following the service, when the bus took many back to Torrevieja, we had dinner in the hotel with several.
What a lovely day.
Geoff and Rona Hurst